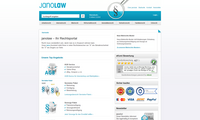 Top Features
Convenient online generation of tailor-made legal documents for users without legal background knowledge
Automatic integration of the legal texts on the web pages of the shop and into the confirmation email
Safeguarded by automatic update of the legal text in case of legal changes
Description
Problem of legal charges
Errors happen quickly, incomplete information on the imprint or an insufficient or missing data protection statement or sample revocation form as well as outdated terms and conditions and information about revocation may cause high legal costs. janolaw AG safeguards online shops with its GTC Hosting Service with automated update service and legal protection package.
Documents creation
In only a few steps, online shop operators can easily and conveniently create all necessary legal documents. No legal background knowledge is required. The documents are generated immediately while answering questions online via www.janolaw.de according to a catalog provided by experienced lawyers. In addition to the German version of the legal texts, the English and French translations are also provided on demand.
[Start now and safeguard your online shop with the General Terms and Conditions Hosting Service!]
Integration & update via interface
The integration of the legal texts on the websites of the shop and in the email order confirmation is procured via the interface installed by an app. The automatic synchronisation keeps the legal documents always up-to-date in accordance with the latest legislation and jurisprudence.
janoFair: the Modern Online Dispute Resolution
Shop operators who use the General Terms and Condition Hosting Service also benefit from the modern online dispute scheme janoFair. Unlike the Online Dispute Resolution (OS) Platform established by the European Union's Regulation (ODR Regulation), janoFair is free of charge. You are provided with the janoFair seal, thus displaying on your online shop that you are participant of the fair online dispute resolution procedure operated by janolaw AG.
Shop evaluation
Optionally, the multilingual AGB Hosting Service can also be booked with the EHI Retail Institute's shop label. The trustworthy seal of approval EHI Certified Online Shop makes an important contribution to the sales growth through the reliable shop check. The focus is on the intensive evaluation procedure (product pages, price data, ordering process, customer communication and usability), which must be passed through by all label carriers. Many small and medium-sized online retailers use this seal of approval as well as more than 50% of the top 100 of the largest German online companies such as Otto, Deichmann, Cyberport, Saturn, QVC and Tchibo.
Questions?
Please contact us by e-mail at info@janolaw.de or call 06196/77 22 777. Our support team is available from Monday to Friday from 9am - 6pm.
Price
Free
Developed by
janolaw Aktiengesellschaft
Conditions
To use this free app you need to buy the AGB Hosting Service by janolaw AG
Back to overview