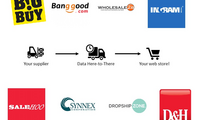 Top Features
Synchronisation of inventory and prices to your suppliers
Automatically add new products from suppliers
Automatically hide discontinued products
Description
Data Here-to-There connects your dropship suppliers to your store. Most suppliers provide CSV or API based data which is hard to understand. We handle the technical details, placing the products into your store and keeping them fresh.
Stock levels and pricing are kept up-to-date to match your supplier. This helps you to avoid oversells, add new products before your competition, and eliminate manual data entry mistakes.
We work with you to understand your supply data and provide a solution that works for your store. Here are some of our features.
Dynamic repricing to add your own margin
Map category names from your supplier to your store
Create rules to automatically curate products from your suppliers
Import images and resize for page load speed
Optimise your product data for SEO
We connect many suppliers including BigBuy, Banggood, D&H, Ingram, Synnex, Wholesale2B, and more!
Our system processes thousands of products every day from a wide variety of suppliers. This ensures that our clients' inventory data is fresh and there is no danger of the dreaded oversell.
Contact us today to talk about your automation needs!
Price
Free
Developed by
Data Here-to-There
Conditions
Flexible subscription based on suppliers
Back to overview