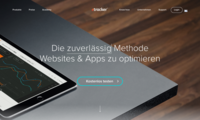 Top Features
Web Analytics – real-time visitor analyses & campaign controlling. Analyse search terms, shopping baskets, click paths, etc
Visitor Motion – mouse Tracking for analysing user experiences
Page Feedback – visitor feedback for every single web page
Description
etracker provides you with valuable insights on optimising your shop and online marketing: Web Analytics allows you to determine what is happening in your shop. Visitor Motion makes it clear how it is happening. Page Feedback tells you where it is happening and Visitor Voice lets you know why.
etracker – Real-time webanalytics instead of visitor-counter
With more than 100,000 customers, Hamburg-based etracker GmbH is one of Europe's leading providers of products and services for the optimisation of websites and online-marketing campaigns.
At etracker, data privacy is a top priority. etracker can offer you a special data-privacy seal free of charge to make it crystal-clear to visitors that your website conducts web analyses in 100% accordance with data-privacy regulations.