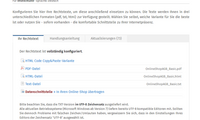 Top Features
Easily transmit your online shop legal texts from IT-Recht Kanzlei München via this app into your online shop
Legal texts can be updated automatically or update your texts manually
Always keep your legal texts up-to-date with the update service
Description
In order for this free app to work, you need one of the paid legal products offered on https://www.it-recht-kanzlei.de (in German)##
Always keep your online shop's legal texts up-to-date with professional legal texts from IT-Recht Kanzlei München and this free app.
It is that easy! Order one of the paid products on IT-Recht Kanzlei Münchens website, answer simple questions online (e.g. "Do you use PayPal?") and easily transmit your resulting legal texts directly into your online shop with the help of this free app.
Texts in your shop can be updated automatically whenever the legal situation or laws change, or when you reconfigure your texts (e.g. after adding a new payment solution to your shop).
Alternatively, manually update your texts in your shop with the click of a button.
Supported legal texts: - Terms & conditions - Privacy policy - Right of withdrawal
Please note that this App is available in German only
Price
Free
Developed by
Jaromedia
Conditions
In order for this free app to work, you need one of the paid legal products offered on https://www.it-recht-kanzlei.de (in German)
Back to overview