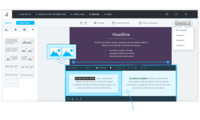 Top Features
1 Click Product Transfer
Automated subscriber sync
Email automation
Description
Effortlessly create, design and send professional email campaigns with Newsletter2Go.
Our email marketing software is designed specifically for online retailers, digital marketing agencies, associations and small- and medium-sized businesses. The software is easy and intuitive to use. Creating personalised newsletters that get results is quick and easy. Tons of great features are there to help you design and personalise your newsletter. You'll be able to segment your contacts into dynamic groups, and send automated, personalized marketing campaigns that get results.
Security is our highest priority at Newsletter2Go. All data is kept on German servers, and our data protection policies have been certified by several independent organisations. We adhere to strict, German data protection regulations and our encryption technology is state of the art. You don't have to worry, because we'll keep your data safe. Newsletters sent via our whitelisted servers bypass spam filters altogether, arriving directly in your contacts' inboxes. Our average delivery rate is more than 99%.
You can use our web-based software from anywhere, because no downloads are required. Unique features like 1 Click Product Transfer, which allows the direct transfer of production information, photos and prices into your newsletter, make creating beautiful newsletters easier than ever. Our real-time reporting tool allows you to measure the success of your email campaign as it happens.
Newsletter2Go offers loads of plug-ins and integrations to ecommerce, CRM and CMS systems. This allows online retailers to easily synchronise their contact data and design effective email campaigns. All of these features add value to your marketing efforts, because don't forget: the first 1,000 emails every month are absolutely free!
Newsletter2Go is ahead of the curve in email marketing. All of our newsletter templates use responsive design, meaning they'll look great on every device. Take your online marketing to the next level with automated email campaigns: lifecycle campaigns that track your customers over time, and trigger-campaigns that send messages automatically.