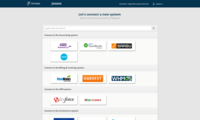 Top Features
Completely automate your online shop, saving you time and money
Save hours of work by eliminating manual transfers between your online shop and your other apps
Connect apps including accounting, fulfillment, inventory, CRM and e-mail marketing
Description
OneSaas is a service which connects your online shop to many different services, like accounting, fulfillment, shipping, inventory management, CRM and e-mail marketing.
Automatically transfer information like orders, stock levels, contacts, shipping labels and shipping tracking.
Here's how it works
Connecting your online shop with OneSaas is very easy: 1. Click on "Install". 2. Register on the website of OneSaas. 3. Accept OneSaas connecting to your online shop.
Your shop is now connected to OneSaas and you can decide which services you want to use:
Accounting (e.g. MYOB) - the invoice and customer is created in your accounting application. The payment is created and the stock levels are updated.

Fulfillment (e.g. eStore) - the order is received by your fulfillment provider, and the product is packed and shipped to the customer. The tracking number will be updated in your online shop.

Shipping (e.g. Shipwire) - the shipping label is automatically created. The tracking number will be updated in your online shop.

Inventory management (e.g. Unleashed) - stock levels are updated in your inventory management app and your online shop.

CRM (e.g. ZOHO) - sales and customer information is passed to your CRM so you have a 360-degree view of your customer.

E-mail marketing (e.g. MailChimp) - the contact is added to your e-mail marketing list.
Choose to connect just one or all of the above applications to your online shop
Price
Free
Developed by
OneSaas Pty Ltd.
Conditions
From $29 / month. Free 7-day trial
Back to overview