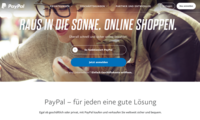 Top Features
Safer and more protected
Easy and convenient
Preferred by customers
Description
PayPal is a global leader in online payments. It's a fast and secure way for customers to pay merchants online. ePages merchants may accept all major credit and debit card funded payments with PayPal. Customers do not even have to have a PayPal account to pay a merchant. It's free to open an account and to qualify for anti-fraud protection.
PayPal – your partner for online payments As one of the leading providers of online-payment solutions, PayPal is your reliable partner for fast and secure payments in your online shop. PayPal allows you to handle online payments just as simply as payments at the till in a brick-and-mortar store. After all, you can activate PayPal in mere minutes and allow PayPal account holders (over 10 million in Germany alone) to immediately begin using any common payment method. You can boost your sales by as much as 15.9% 1 and benefit from comprehensive risk management.  Last but not least, PayPal costs arise for you only when your customer uses it to pay. Additional benefits of PayPal  To the PayPal fee calculator To PayPal registration Additional  PayPal facts and figures
Express for more sales PayPal Express allows your customers to pay even more quickly and easily. The Express Checkout button appears namely next to your Checkout button. Your customers thus proceed directly to checkout and pay after just two clicks, since they always make use of the bank-account or credit-card data stored securely by PayPal. 
Portrayal of PayPal Express:
PayPal Express boosts your sales. Shops which offer PayPal Express complete 23% more sales. For more information about PayPal Express, consult the PayPal Express info pages. You can view the PayPal Express demo here.
Activating PayPal is easy Registering with PayPal: click here for an overview of just how it is done, how much time you will need, and to learn how to best use your PayPal account. Open an account or upgrade. Open a PayPal business account – or upgrade from your private account to a business account. Duration: approx. 5 minutes Setting up your account: As soon as you have a PayPal account, you can tailor it to your needs. Duration: depends on the scope of the settings; approx. 20 minutes. Removing withdrawal limits and receiving limits: Every PayPal account initially has a withdrawal limit and a sending limit. The first phase for removing limits lasts about 2-4 days.
Price
Free
Developed by
PayPal (Europe) S.à r.l. et Cie, S.C.A.
Back to overview