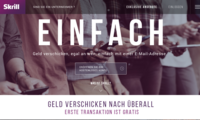 Top Features
No set up or monthly fees
Up to 100 additional local payment options
Anti-fraud checks included
Description
Why Skrill? Skrill's worldwide network of payment systems provides companies access – via just one integration – to 100 methods of payment in 200 countries and 40 currencies. More than 156,000 merchants use Skrill – including global brands such as eBay, Skype and Thomas Cook.
Advantages for your business: No set up or monthly fees Process credit and debit card payments Up to 100 additional local payment options Highest security standards (PCI DSS level 1) Anti-fraud checks included Free set up within 72 hours
Advantages for your customers: Easy way to pay safely online – no sign-up required to make payments Payments are convenient and immediate – pay with a bank account, or debit and credit cards without any hassle Multiple local payment options allowing customers to pay how they want Internationally recognised brand
Skrill Payment Processing Skrill Quick Checkout enables your shop to uniformly accept credit cards and bank transfers as well as all other location-specific methods of payment.
Skrill eWallet – your most profitable method of payment Integrating the Skrill Digital Wallet solution enables any customer registered with Skrill to make online payments conveniently and securely without revealing personal financial data. This simple yet secure email and password payment solution – ensures increased conversion and retention of customers.
Get started now as an ePages customer and receive payments from round the world – securely, while saving time and money!