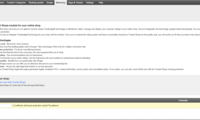 Top Features
Shop reviews: Improve not only your customer service but also your SEO ranking to get more traffic
Product reviews: Optimise your range of products in real time and reduce the return rate
Trustmark with guarantee: More trust and little risk mean higher conversion rates
Description
The bestseller for your shop: Trust
Use all the benefits offered by the leading European trust brand for your online shop. Boost your traffic, conversion rate, and customer loyalty with Trusted Shops tools like the trustmark, the money-back guarantee, and the review system.
More traffic
Show your stars in the Google search results, in your AdWords ads, and in Google Shopping, improve your ranking, and benefit from the viral marketing effect of customers sharing their reviews on social networks.
More conversions
The Trusted Shops trustmark inspires trust at first sight, your customer reviews help customers make the right purchase decision, and the money-back guarantee ensures them a relaxed shopping experience with no financial risk – regardless of the payment method.
More customer loyalty
Collect authentic reviews and find out what your customers really think about your shop. Keep in touch with them and manage your online reputation. Analyse your customer feedback to optimise your service and product range.